Adams County Judge Delivers Significant Sentence to Defendant Convicted of Attempted Murder; Victim is Partially Paralyzed, Wheelchair Bound as a Result of the Crime
---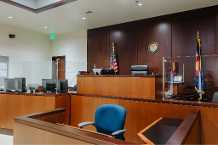 Brighton, CO —Today, District Attorney Brian Mason is announcing the 40-year prison sentence for Ahkeem Powell, 24, following his Attempted Murder and Assault conviction on July 21, 2021.
On April 7, 2020, at approximately 1:30am, Ahkeem Powell was outside of a motel in Aurora working on a vehicle when the victim in this case and another male approached the defendant. Powell and the female victim were acquaintances.
Surveillance video from the motel captured the incident. The video shows Powell casually walk behind the victim and stab her in the back of the head and the abdomen. The defendant fled the scene while the victim walked to a nearby motel room to receive help.
The victim suffered a lacerated liver, significant blood loss leading to a stroke, a months-long coma, and paralysis to one side of her body as a result of the injuries. The victim is now in a wheelchair due to the defendant's actions.
On Wednesday, July 21, 2021, an Adams County Jury convicted Ahkeem Powell of two felony counts including,
Attempted Murder

Assault

Sentence Enhancer: Violent Crime—Cause Death/SBI

Sentence Enhancer: Violent Crime—Used Weapon
On Friday, September 17, 2021, Powell was sentenced to 40 years in prison. 
"This violent stabbing shocks the conscience, and the victim is lucky to be alive," said District Attorney Brian Mason. "The defendant's acts were deplorable. The community will be safer now that he must serve this significant sentence."
Chief Deputy District Attorney Kristen Baker led the prosecution of this case.
District Attorney Mason assumed the oath of office on January 12, 2021. The 17th Judicial District Attorney's Office endeavors to seek justice on behalf of the citizens of Adams and Broomfield counties in felony and misdemeanor cases. DA Mason and his staff are dedicated to transforming the criminal justice system to better serve the citizens of the 17th Judicial District.
 
Go Back